$34.99
AUD
Category: Australian Non fiction
If we are to take seriously the need for telling the truth about our history, we must start at first principles. What if the sovereignty of the First Nations was recognised by European international law in the eighteenth and nineteenth centuries? What if the audacious British annexation of a whole conti nent was not seen as acceptable at the time and the colonial office in Britain understood that 'peaceful settlement' was a fiction? If the 1901 parliament did not have control of the whole continent, particularly the North, by what right could the new nation claim it? The historical record shows that the argument of the Uluru Statement from the Heart is stronger than many people imagine and the centuries-long legal position about British claims to the land far less imposing than it appears. In Truth-Telling, influential historian Henry Reynolds pulls the rug from legal and historical assumptions, with his usual sharp eye and rigour, in a book that's about the present as much as the past. His work shows exactly why our national war memorial must acknowledge the frontier wars, why we must change the date of our national day, and why treaties are important. Most of all, it makes urgently clear that the Uluru Statement is no rhetorical flourish but carries the weight of history and law and gives us a map for the future.   ...Show more
$22.99
AUD
Category: History | Series: Six Tudor Queens Ser.
'This six-book series looks likely to become a landmark in historical fiction' The TimesAlison Weir, historian and author of the Sunday Times-bestselling Six Tudor Queens series, relates one of the most tragic stories in English history: Katheryn Howard, Henry VIII's fifth queen.'With characteristic ver ve and stunning period detail, this novel will captivate you and break your heart. Utterly sublime' TRACY BORMAN'Conveys the heart-rending pathos of a young woman executed, whose only real crime was her naivete and her desire to be loved... It is a profoundly moving story that lingers long after the last page is turned' ELIZABETH FREEMANTLE'Alison's sensitively drawn novel will change everyone's preconceptions' SUSAN RONALD...A NAIVE YOUNG WOMAN AT THE MERCY OF HER AMBITIOUS FAMILY.At just nineteen, Katheryn Howard is quick to trust and fall in love.She comes to court. She sings, she dances. She captures the heart of the King.But Henry knows nothing of Katheryn's past - one that comes back increasingly to haunt her. For those who share her secrets are waiting in the shadows, whispering words of love... and blackmail.The fifth of Henry's queens.Her story.Acclaimed, bestselling historian Alison Weir draws on extensive research to recount the tale of a vivacious young woman used by powerful men for their own gain. HISTORY TELLS US SHE DIED TO SOON.THIS MESMERISING NOVEL BRINGS HER TO LIFE.PRAISE FOR THE SIX TUDOR QUEENS SERIES:'Weir is excellent on the little details that bring a world to life' Guardian'Alison Weir makes history come alive as no one else' Barbara Erskine'Well researched and engrossing' Good Housekeeping'Utterly gripping and endlessly surprising' Tracy Borman 'Hugely enjoyable . . . Alison Weir knows her subject and has a knack for the telling and textural detail' Daily Mail ...Show more
$19.99
AUD
Category: Fiction | Series: Shortlisted for the Man Booker Prize 2018 | Reading Level: very good
An artist inherits a hundred years of photographic portraits, all of the same doomed American chestnut.A hard-partying undergraduate in the late 1980s electrocutes herself, dies, and is sent back into life by creatures of air and light.A hearing- and speech-impaired scientist discovers that trees are co mmunicating with one another.An Air Force crewmember in the Vietnam War is shot out of the sky, then saved by falling into a banyan.This is the story of these and five other strangers, each summoned in different ways by the natural world, who are brought together in a last stand to save it from catastrophe.  ...Show more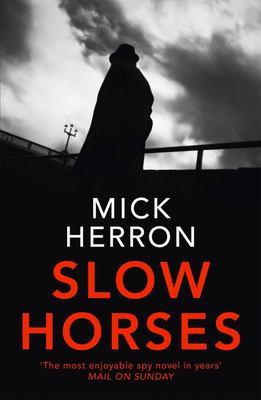 $19.99
AUD
Category: Crime Fiction & Thrillers | Series: Slough House Thriller Ser.
Shortlisted for the CWA Ian Fleming Steel Dagger Award 'The UK's new spy master' Sunday Times You don't stop being a spook just because you're no longer in the game. Banished to Slough House from the ranks of achievers at Regent's Park for various crimes of drugs and drunkenness, lechery and failure, politics and betrayal, Jackson Lamb's misfit crew of highly trained joes don't run ops, they push paper. But not one of them joined the Intelligence Service to be a 'slow horse'. A boy is kidnapped and held hostage. His beheading is scheduled for live broadcast on the net. And whatever the instructions of the Service, the slow horses aren't going to just sit quiet and watch . . . ...Show more
Items per page:
1 - 4 of 4