$0.00
AUD
Category: Crime Fiction & Thrillers
Meet Cordelia Gray: twenty-two, tough, intelligent and now sole inheritor of the Pryde Detective Agency. Her first assignment finds her hired by Sir Ronald Callender to investigate the death of his son Mark, a young Cambridge student found hanged in mysterious circumstances. Required to delve into the h idden secrets of the Callender family, Cordelia soon realises it is not a case of suicide, and that the truth is entirely more sinister. ...Show more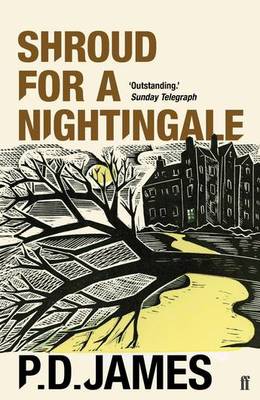 $19.99
AUD
Category: Crime Fiction & Thrillers
The young women of Nightingale House are there to learn to nurse and comfort the suffering. But when one of the students plays patient in a demonstration of nursing skills, she is horribly, brutally killed. Another student dies equally mysteriously and it is up to Adam Dalgliesh to unmask a killer who h as decided to prescribe murder as the cure for all ills. ...Show more
$22.99
AUD
Category: Crime Fiction & Thrillers
A gripping alternative history thriller set in the Second World War, from the internationally acclaimed and bestselling author of the Bernie Gunther novels. Autumn 1943. Hitler knows he cannot win the war: now he must find a way to make peace. FDR and Stalin are willing to negotiate; only Churchill ref uses to listen. The upcoming Allied Tehran conference will be where the next steps - whatever they are - will be decided. Into this nest of double- and triple-dealing steps Willard Mayer, OSS agent and FDR's envoy to the conference. His job is to secure the peace that the USA and Hitler now crave. The stakes couldn't be higher. Showcasing Philip Kerr's brilliant research and masterful plotting at its best, Hitler's Peace has never before been published in the UK and is a fitting coda to the career of one of the masters of the historical thriller. ...Show more
$32.99
AUD
Category: Crime Fiction & Thrillers
Jake Brigance, the protagonist of John Grisham's classic legal thriller, A TIME TO KILL, is back. This time he's at the epicenter of a sensational murder trial that bitterly divides the citizens of Clanton, Mississippi. John Grisham's A TIME TO KILL is one of the most popular novels of our time. It est ablished Jake as a classic American hero-a lawyer who sought truth and justice at all costs, even when his life and reputation were on the line. Brigance returned in 2013's Sycamore Row, in which he once again found himself embroiled in a deeply divisive trial. Now, in A TIME FOR MERCY, Jake is the court-appointed lawyer for Drew Gamble, a young man accused of murdering a local deputy. Many in Clanton want a swift trial and the death penalty, but Brigance sees it another way. Once he learns the details of the case, he realizes he has to do everything he can to save Drew....who is sixteen. His commitment to the truth puts Jake's career and the safety of his family at risk. Filled with all the courtroom machinations, small town intrigues, and plot twists that have become hallmarks of the master of the legal thriller, A TIME FOR MERCY emphatically confirms John Grisham's reputation as America's favourite storyteller. There is a time to kill, a time for justice, and A TIME FOR MERCY. ...Show more
Loyalty
by Martina Cole
$29.99
AUD
Category: Crime Fiction & Thrillers | Series: Planet Omar Ser.
**Pre-order the brand new novel from No. 1 bestseller Martina Cole** If you want to survive in this world there's one thing you need to value above all else: loyalty. Don't miss the explosive new novel from the queen of crime Martina Cole, coming in 2020. 'She's a total one-off' Guardian 'The stuff of legend' Mirror 'Superstar crime writer' This Morning 'There really is only one Martina Cole' Closer 'The undisputed Queen of crime writing' Erwin James ...Show more
$32.99
AUD
Category: Crime Fiction & Thrillers
 'He's gone...' When his daughter Samantha calls in the dead of night, John Rebus knows it's not good news. Her husband has been missing for two days. Rebus fears the worst - and knows from his lifetime in the police that his daughter will be the prime suspect. He wasn't the best father - the job always came first - but now his daughter needs him more than ever. But is he going as a father or a detective? As he leaves at dawn to drive to the windswept coast - and a small town with big secrets - he wonders whether this might be the first time in his life where the truth is the one thing he doesn't want to find... ...Show more
$19.99
AUD
Category: Crime Fiction & Thrillers | Series: A\Constable Twitten Mystery Ser.
A charming second comic crime novel from New York Times bestselling author Lynne Truss.1957: In the beach town of Brighton, music is playing and guests are sunning themselves, when a young man is found dead, dripping blood, in a deck chair.Constable Twitten of the Brighton Police Force has a hunch that the fiendish murder may be connected to a notorious nightspot, but his captain and his colleagues are--as ever--busy with other more important issues. Inspector Steine is being conned into paying for the honor of being featured at the Museum of Wax, and Sergeant Brunswick is trying (and failing) to get the attention of the distraught Brighton Belles who found the body. As the case twists and turns, Constable Twitten must find the murderer and convince his colleagues that there's an evil mastermind behind Brighton's climbing crime rate.Our incomparable team of detectives are back for another outing in the second installment of Lynne Truss's joyfully quirky crime series. ...Show more
Undoing
by KORELITZ J H
$19.99
AUD
Category: Crime Fiction & Thrillers
Get ready for The Undoing, soon to be the most talked about TV of 2020. From the creators of Big Little Lies, The Undoing premieres this autumn starring Nicole Kidman, Hugh Grant and Donald Sutherland. 'A great psychological thriller ... I couldn't put it down.' Daisy Goodwin 'A brilliant addition to the Oops-I-Married-a-Sociopath genre, started by Gillian Flynn's Gone Girl.' Metro A New York Times bestseller Grace Sachs, a happily married therapist with a young son, thinks she knows everything about women, men and marriage. She is about to publish a book based on her pet theory: women don't value their intuition about men, leading to serious trouble later on. But how well does Grace know her own husband? She is about to find out, and in the place of what she thought she knew, there will be a violent death, a missing husband, and a chain of terrible revelations. Left behind in the wake of a very public disaster, and horrified by the ways in which she has failed to heed her own advice, Grace must dismantle one life and create another for herself and her child.   ...Show more
$14.99
AUD
Category: Crime Fiction & Thrillers
Forced out of the Los Angeles Times amid the latest budget cuts, newspaperman Jack McEvoy decides to go out with a bang, using his final days at the paperto write the definitive murder story of his career. He focuses on Alonzo Winslow, a 16-year-old drug dealer in jail after confessing to a brutal murd er. But as he delves into the story, Jack realizes that Winslow's so-called confession is bogus. The kid might actually be innocent. Jack is soon running with his biggest story since The Poetmade his career years ago. He is tracking a killer who operates completely below police radar--and with perfect knowledge of any move against him. Including Jack's. Bonus materials include an in-depth interview with the author about writing "The Scarecrow" along with his exciting travel photos-plus a link to an online promotional video and links within the text to a fictitious website based on the novel and a teaser chapter from his next book, "Nine Dragons." ...Show more
$32.99
AUD
Category: Crime Fiction & Thrillers
The gripping new Martin Scarsden novel. She breathes deeply, trying to quell the rising sense of panic. A detective came to her home, drugged her and kidnapped her. She tries to make sense of it, to imagine alternatives, but only one conclusion is possible: it's the past, come to claim her.  Martin Sc arsden's new life seems perfect, right up until the moment it's shattered by a voicemail: a single scream, abruptly cut off, from his partner Mandalay Blonde. Racing home, he finds an unconscious man sprawled on the floor and Mandy gone. Someone has abducted her. But who, and why? So starts a twisting tale of intrigue and danger, as Martin probes the past of the woman he loves, a woman who has buried her former life so deep she has never mentioned it. And for the first time, Mandy finds denial impossible, now the body of a mystery man has been discovered, a man whose name she doesn't know, a man she was engaged to marry when he died. It's time to face her demons once and for all; it's time she learned how to trust.  Set in a Sydney riven with corruption and nepotism, privilege and power, Trust is the third riveting novel from award-winning and internationally acclaimed writer Chris Hammer. 'The best Australian crime novel since Peter Temple's The Broken Shore.' - The Times on Silver   ...Show more
$32.99
AUD
Category: Crime Fiction & Thrillers
In the next thriller in the #1 New York Times bestselling Mitch Rapp series, it's a race against the clock when ISIS takes out the entire US power grid and throws the country into chaos.    
Box 88
by Charles Cumming
$29.99
AUD
Category: Crime Fiction & Thrillers
An organisation that doesn't exist. A spy that can't be caught. 1989: The fall of the Berlin Wall is imminent and the Cold War will soon be over. But for Box 88, a top secret spying agency known only to an inner circle of MI6 and CIA operatives, the espionage game is heating up. Lachlan Kite, recruite d straight from an elite board school, is sent to France - the frontline of a new secret war. Kite is tasked with gathering intelligence on a mysterious Iranian businessman implicated in the tragic Lockerbie bombing. But what he uncovers is even more deadly... 2020: MI5 hear rumours of Box 88's existence and go after Kite - only for Iranian intelligence to get to him first.  Taken captive and subjected to torture, Kite is presented with a simple choice: reveal the truth about what happened in France thirty years earlier - or watch his family die. Past and present merge, as MI5 and Box 88 are caught up in a race against time to save Kite. ...Show more