$22.99
AUD
Category: Australian Non fiction
Dark Emu argues for a reconsideration of the 'hunter-gatherer' tag for pre-colonial Aboriginal Australians and attempts to rebut the colonial myths that have worked to justify dispossession. Accomplished author Bruce Pascoe provides compelling evidence from the diaries of early explorers that suggests that systems of food production and land management have been blatantly understated in modern retellings of early Aboriginal history, and that a new look at Australia's past is required. ...Show more
$24.99
AUD
Category: Poetry
This important anthology, curated by Gomeroi poet and academic Alison Whittaker, showcases Australia's most-respected First Nations poets alongside some of the rising stars. Featured poets include Oodgeroo Noonuccal, Ruby Langford Ginibi, Ellen van Neerven, Tony Birch, Claire G. Coleman, Evelyn Araluen, Jack Davis, Kevin Gilbert, Lionel Fogarty, Sam Wagan Watson, Ali Cobby Eckermann, Archie Roach and Alexis Wright. Divided into five thematic sections, each one is introduced by an essay from a leading Aboriginal writer and thinker - Bruce Pascoe, Ali Cobby Eckermann, Chelsea Bond, Evelyn Araluen and Steven Oliver - who reflects on the power of First Nations poetry with their own original contribution. This incredible book is a testament to the renaissance of First Nations poetry happening in Australia right now. ...Show more
$32.99
AUD
Category: Australian Non fiction | Reading Level: 4 Non Fiction
This remarkable book is about everything from echidnas to evolution, cosmology to cooking, sex and science and spirits to Schrodinger's cat. Tyson Yunkaporta looks at global systems from an Indigenous perspective. He asks how contemporary life diverges from the pattern of creation. How does this affect us? How can we do things differently? Sand Talk provides a template for living. It's about how lines and symbols and shapes can help us make sense of the world. It's about how we learn and how we remember. It's about talking to everybody and listening carefully. It's about finding different ways to look at things. Most of all it's about Indigenous thinking, and how it can save the world. ...Show more
$34.99
AUD
Category: Australian Non fiction
A rare opportunity to connect with the living tradition of women's songlines, as recounted by Yolngu women from far north Australia.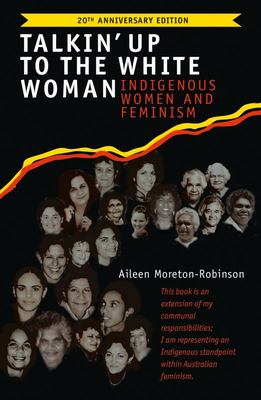 $24.99
AUD
Category: Australian Non fiction
In this ground-breaking and timeless book, Distinguished Professor Aileen Moreton-Robinson undertakes a compelling analysis of the whiteness of Australian feminism and its effect on Indigenous women. As a Goenpul woman and an academic, she operationalises an Indigenous women's standpoint as she 'talks up', engages with and interrogates western feminism in representation and practice. Through an examination of an extensive range of feminist literature written predominantly by white scholars and activists, Moreton-Robinson demonstrates how whiteness dominates from a position of power and privilege as an invisible norm and unchallenged practice. She illustrates the ways in which Indigenous women have been represented in the publications and teachings of white Australian women. Such renderings of Indigenous lives contrast with the way in which Indigenous women re/present and understand themselves. Persuasive and engaging, Talkin' Up to the White Woman is a timely and necessary argument for the inclusion of Indigenous perspectives in the teachings and practices that impact on Australia's pluralistic society. First published twenty years ago, this new edition proves the continued relevance of this classic work as a critique of the whiteness of western feminism. ...Show more
$29.99
AUD
Category: Fiction | Series: Fremantle Press Treasures
Harley, a man of Nyoongar ancestry, finds himself at a difficult point in the history of his country, family and self. As the apparently successful outcome of his white grandfather's enthusiastic attempts to isolate and breed the 'first white man born', he wants to be a failure. But would such failure m ean his Nyoongar ancestors could label him a success? And how can the attempted genocide represented by his family history be told? ...Show more
$26.95
AUD
Category: Fiction
Hailed as a "literary sensation" by The New York Times Book Review, Carpentaria is the luminous award-winning novel by Australian Aboriginal writer and activist Alexis Wright.   Alexis Wright employs mysticism, stark reality, and pointed imagination to re-create the land and the Aboriginal people of Car pentaria.   In the sparsely populated northern Queensland town of Desperance, loyalties run deep and battle lines have been drawn between the powerful Phantom family, leaders of the Westend Pricklebush people, and Joseph Midnight's renegade Eastend mob, and their disputes with the white officials of neighboring towns. Steeped in myth and magical realism, Wright's hypnotic storytelling exposes the heartbreaking realities of Aboriginal life.   By turns operatic and everyday, surreal and sensational, the novel teems with extraordinary, larger-than-life characters. From the outcast savior Elias Smith, religious zealot Mossie Fishman, and murderous mayor Bruiser to activist Will Phantom and Normal Phantom, ruler of the family, these unforgettable characters transcend their circumstances and challenge assumptions about the downtrodden "other." Trapped between politics and principle, past and present, the indigenous tribes fight to protect their natural resources, sacred sites, and above all, their people.   Already an international bestseller, Carpentaria has garnered praise from around the world. ...Show more
$19.95
AUD
Category: Biography & Memoir | Series: Nungar
The film Rabbit-Proof Fence is based on this true account of Doris Pilkington's mother Molly, who as a young girl led her two sisters on an extraordinary 1,600 kilometre walk home. Under Western Australia's invidious removal policy of the 1930s, the girls were taken from their Aboriginal families at Jig along on the edge of the Little Sandy Desert, and transported halfway across the state to the Native Settlement at Moore River, north of Perth. Here Aboriginal children were instructed in the ways of white society and forbidden to speak their native tongue.The three girls - aged 8, 11 and 14 - managed to escape from the settlement's repressive conditions and brutal treatment. Barefoot, without provisions or maps, they set out to find the rabbit-proof fence, knowing it passed near their home in the north. Tracked by Native Police and search planes, they hid in terror, surviving on bush tucker, desperate to return to the world they knew. ...Show more
$29.99
AUD
Category: Australian Non fiction
Childhood stories of family, country and belonging What is it like to grow up Aboriginal in Australia? This anthology, compiled by award-winning author Anita Heiss, showcases many diverse voices, experiences and stories in order to answer that question. Accounts from well-known authors and high-profile identities sit alongside those from newly discovered writers of all ages. All of the contributors speak from the heart - sometimes calling for empathy, oftentimes challenging stereotypes, always demanding respect. This groundbreaking collection will enlighten, inspire and educate about the lives of Aboriginal people in Australia today. Contributors include- Tony Birch, Deborah Cheetham, Adam Goodes, Terri Janke, Patrick Johnson, Ambelin Kwaymullina, Jack Latimore, Celeste Liddle, Amy McQuire, Kerry Reed-Gilbert, Miranda Tapsell, Jared Thomas, Aileen Walsh, Alexis West, Tara June Winch, and many, many more. ...Show more
$24.00
AUD
Category: Poetry | Series: Giramondo Poets Ser.
'...an outstanding achievement that will, with its skill and elegance, deeply enrich Australian poetry and whoever reads it.' Judges' citation, 2013 NSW Premier's Literary Award for Poetry Ali Cobby Eckermann, a Yankunytjatjara/Kokatha poet, is at the forefront of Australian Indigenous poetry. Inside My Mother is both a political and personal collection, angry and tender, propelled by the need to remember yet brimming with energy and vitality - qualities that distinguished her previous, prize-winning verse novel, Ruby Moonlight. Tributes to country, to her elders, and to the animals and spirits that inhabit the landscape, coupled with the rhythms of mourning and celebration that pulse through the poems, make this a moving and personal collection. Grief is deeply felt and vividly portrayed in poems such as 'Inside My Mother' and 'Lament'. There is defiance and protest in 'Clapsticks' and 'I Tell You True'. In the final section there is a marked generational shift as the elders begin to pass away and the poet as grandmother comes to accept her rightful place as matriarch. ...Show more
$24.99
AUD
Category: Fiction
COMMENDED FOR THE 2011 KATE CHALLIS RAKA AWARD SHORTLISTED FOR THE 2006 QUEENSLAND PREMIER'S LITERARY AWARDS -- AUSTRALIAN SHORT STORY COLLECTION Shadowboxing is a collection of ten linked stories in the life of a boy growing up in the inner-Melbourne suburb of Fitzroy in the 1960s. A beautifully rend ered time capsule, it captures a period of decay, turmoil, and change through innocent, unblinking eyes. Michael's family, led by his long-suffering mother, live as though under siege, surviving his father's drinking and rage as well as the forces of 'urban renewal'. Their neighbourhood is a world of simple pleasures as well as random brutality; of family life and love as well as violence and tragedy. As Michael experiences all this with a combination of wonder and fear, he matures into a sensitive adult who can forgive but never forget. Shadowboxing is a riveting story of loss and permanence, power and weakness, stoicism and resistance. PRAISE FOR TONY BIRCH 'Stunning series of linked stories about growing up in '60s Fitzroy.' The Age 'There's a Hemingwayesque minimalism about this writing, but in Hemingway the pathos was reined in more. In the 10 linked stories in Shadowboxing, the pathos is often barely contained and the effect is quite shattering ... Birch's descriptions of the lower socio-economic world of inner Melbourne in the '60s are brilliant and he evokes, with a curious nostalgia, a claustrophobic world that anyone would be lucky to escape from unscathed. He has a great ability to pare down his prose, laying bare the raw flesh of the matter in the process. Despite their rigours, the stories are engaging, with flashes of larrikin humour. The book is even something of a page-turner at times, although the calamity of one page often leads only to heartbreak on the next.' The Australian ...Show more
$24.99
AUD
Category: Australian Non fiction
An extraordinarily powerful and personal meditation on race, culture, and identity. When Stan Grant was born in Australia in 1963, the national census classed him and his family among the country's flora and fauna. As Aboriginal Australians, their history and culture had been suppressed for centuries. A legacy of racism stood between him and the opportunities that white Australia - the so-called Lucky County - seemed awash with. But Grant was lucky enough to find an escape route through education. Finding early inspiration in the writing of James Baldwin and fellow indigenous activists at the Australian National University, on completing his studies he went on to become one of the country's leading journalists. As a correspondent for CNN he travelled extensively, covering conflicts in the Middle East, Africa, and Asia. Struck by how common humanity can live on in the face of repression and mass destruction - from North Korea to Pakistan to Baghdad - the lives of individuals he met spoke to him of sacrifice, endurance, and the undying call of family and homeland. And in the stories of other dispossessed peoples, he saw that of his own.  In Talking To My Country, Grant draws on his own life and community to respond to the ongoing racism that he sees around him. He writes with passion and striking candour of the sorrow, shame, anger, and hardship of being an indigenous man. Forthright and unblinking, Stan reaches beyond his own heritage to show how the effects of colonialism and racism are everyday realities that still shape our world, and how we should never grow complacent in the fight to overcome them.  ...Show more