$29.99
AUD
Category: Travel
Ghosts and specters, the eerie and the occult. Why is contemporary culture so preoccupied by the supernatural, so captivated by the revenants of an earlier age, so haunted? The concept of Hauntology has evolved since first emerging in the 1990s, and has now entered the cultural mainstream as a shorthand for our new-found obsession with the recent past. But where does this term come from and what exactly does it mean?This book seeks to answer these questions by examining the history of our fascination with the uncanny from the golden age of the Victorian ghost story to the present day. From Dickens to Derrida, MR James to Mark Fisher; from the rise of Spiritualism to the folk horror revival, Hauntology traces our continuing engagement with these esoteric ideas. Moving between the literary and the theoretical, the visual and the political, Hauntology explores our nostalgia for the cultural artifacts of a past from which we seem unable to break free. ...Show more
$39.99
AUD
Category: Travel | Series: Boiling Billy Camping Guides
Explore the very best camping spots in Victoria with this fully updated, expanded and detailed directory to more than 750 campsites. With Camping Guide to Victoria, 5th Edition, youll discover places where you can pitch your tent on a mountain peak, wander along secluded beaches, throw in a line from yo ur campsite beside a meandering inland river or enjoy a beachfront campsite with the ocean at your doorstep. Craig Lewis and Cathy Savage established Boiling Billy Publications in 1996 and have been travelling, camping out and writing ever since. ...Show more
$39.99
AUD
Category: Travel
35 trips that highlight some of the most interesting, scenic and rewarding railway journeys in Australia and New Zealand. They include the renowned long-distance journeys, such as The Indian Pacific in Australia that takes travellers on a three-day trip from Perth to Sydney or the The Northern Explorer in New Zealand's North Island that stretches from Wellington to Auckland, as well as those that traverse stunning scenery, such as New Zealand's TranzAlpine train or the Spirit of the Outback in Australia. There are also routes on which restored steam locomotives operate and other lines included for the wonder of their engineering. Trains are a great way to travel in these countries, taking you at ground level past superb scenery that often cannot be seen by any other means of transport. David Bowden's entertaining text describes the route, the major features of interest along the way and any special technical details about the locomotive or the track. ...Show more
Australia's Best 100 Walks
by Katrina O'Brien; Australian Geographic ((various roles))
$39.95
AUD
Category: Travel
A great walk can be an exhilarating experience that will stay with you forever. Perhaps you're stirred by endless mountain views or soothed by stepping into a living green cathedral. Maybe the challenge drives you harder and farther than you thought possible. Sometimes you'll find yourself in the presen ce of a rare creature and feel a jolt of connection. There's always magic to be found when walking but the very best walks will do all of these things. Fortunately, Australia is full of extraordinary walks - here's our collection of the best to be found in every corner of this country.   ...Show more
$22.99
AUD
Category: Travel
WINNER OF THE EDWARD STANFORD AWARD FOR OUTSTANDING CONTRIBUTION TO TRAVEL WRITING 2020 The master of contemporary travel writing, Paul Theroux, immerses himself in the beautiful and troubled heart of modern Mexico Nogales is a border town caught between Mexico and the United States of America. A fort y-foot steel fence runs through its centre, separating the prosperous US side from the impoverished Mexican side. It is a fascinating site of tension, now more than ever, as the town fills with hopeful border crossers and the deportees who have been caught and brought back. And it is here that Paul Theroux will begin his journey into the culturally rich but troubled heart of modern Mexico. Moving through the deserts just south of the Arizona border, Theroux finds a place brimming with charm, yet visibly marked by both the US border patrol looming to the north and mounting discord from within. Attending local language and culinary schools, driving through the country and meeting its people, Paul Theroux gets under the skin of Mexico. From the writer praised for his 'curiosity and affection for humanity in all its forms' (New York Times Book Review), On The Plain of Snakes is an urgent and mesmerising exploration of a region in conflict. Praise for Paul Theroux: 'As cool as Maugham... as observant, intuitive, wry, inventive and eloquent as Graham Greene' Sunday Times 'Theroux's work remains the standard by which other travel writing must be judged' Observer 'The world's most perceptive travel writer' Daily Mail 'One of the most accomplished and worldly-wise writers of his generation' The Times ...Show more
$32.99
AUD
Category: Travel
It is summer, the hay and silage have not yet been made on John Connell's farm, so he has time to indulge his other great passion: running. John sets off on a marathon run of 42.2 kilometres through his native Longford, the scene of his award-winning book The Cow Book. As he runs across woodlands, field s and tiny roads, he tells the story of his life and contemplates Ireland's history, old and new. He also remembers other great runs he has done, from Australia to Canada, and tells the stories of some of his running heroes, such as Haile Gebrselassie. Part memoir, part essay, The Running Book explores what it is to be alive and what movement can do for a person. It is deeply intimate and wide-ranging, local and global: Connell is as likely to write about colonialism and the effect of British imperialism in Ireland and its former colonies as he is about life on his family farm in Ballinalee, County Longford. Told in 42 chapters, each another kilometre in the 42.2k race, the whole book is 42,000 words long and it captures what it is to undertake a marathon moment by moment, in body and mind. Above all, The Running Book is a book about the nature of happiness and how for one man it came through the feet. ...Show more
$34.99
AUD
Category: Travel | Series: Travel Guide Ser.
Lonely Planet Best Day Walks Australia is your passport to 60 escapes into nature. Stretch your legs away from the city by picking a walk that works for you, from just a couple of hours to a full day, from easy to hard. Stroll vine-striped hillsides, discover hidden coastlines, or explore the Outback. G et to the heart of Australia and begin your journey now!   Inside Lonely Planet Best Day Walks Australia Travel Guide:  Colour maps and images throughout Special features - on Australia's highlights for walkers, kid-friendly walks, accessible trails and what to take Best for... section helps you plan your trip and select walks that appeal to your interests Region profiles cover when to go, where to stay, what's on, cultural insights, and local food and drink recommendations to refuel and refresh. Featured regions include: Sydney & Around, Byron Bay to the Sunshine Coast, The Daintree & the Far North, the Outback, The Kimberley & Pilbara, Southwest Forests to the Sea, Flinders to Fleurieu, Grampians to the High Country, the Prom to the Great Ocean Road, and Tasmania Essential info at your fingertips - walk itineraries accompanied by illustrative maps are combined with details about walk duration, distance, terrain, start/end locations and difficulty (classified as easy, easy-moderate, moderate, moderate-hard, or hard) Over 70 maps   The Perfect Choice: Lonely Planet Best Day Walks Australia, our most comprehensive guide to walking in Australia, is perfect for those planning to explore Australia on foot. Looking for more information on Australia? Check out Lonely Planet Australia guide for a comprehensive look at what the country has to offer.    ...Show more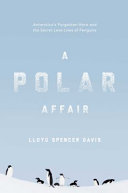 $32.99
AUD
Category: Travel
A captivating blend of true adventure and natural history by one of today's leading penguin experts and Antarctic explorers George Murray Levick was the physician on Robert Falcon Scott's tragic Antarctic expedition of 1910. Marooned for an Antarctic winter, Levick passed the time by becoming the first man to study penguins up close. His findings were so shocking to Victorian morals that they were quickly suppressed and seemingly lost to history. A century later, Lloyd Spencer Davis rediscovers Levick and his findings during the course of his own scientific adventures in Antarctica. Levick's long-suppressed manuscript reveals not only an incredible survival story, but one that will change our understanding of an entire species. A Polar Affair reveals the last untold tale from the Heroic Age of Antarctic Exploration. It is perhaps the greatest of all of those stories--but why was it hidden to begin with? The ever-fascinating and charming penguin holds the key. Moving deftly between both Levick's and Davis's explorations, observations, and comparisons in biology over the course of a century, A Polar Affair reveals cutting-edge findings about ornithology, in which the sex lives of penguins are the jumping-off point for major new insights into the underpinnings of evolutionary biology itself. ...Show more
$35.00
AUD
Category: Travel
'A volume in which rich and unexpected seams of precious materials await discovery' Guardian Three hundred years of wanderlust are captured in this collection as women travel for peril or pleasure, whether to gaze into Persian gardens or imbibe the French countryside, to challenge the fierce Sahara or c limb an impossible mountain. The extraordinary women in this collection are observers of the world in which they wander; their prose rich in description, remarkable in detail. Mary McCarthy conveys the vitality of Florence while Willa Cather's essay on Lavandou foreshadows her descriptions of the French countryside in later novels. Others are more active participants in the culture they are visiting, such as Leila Philip, as she harvests rice with Japanese women. Whether it is curiosity about the world, a thirst for adventure or escape from personal tragedy, all of these women are united in that they approached their journeys with wit, intelligence, compassion and empathy for the lives of those they encountered along the way. Also includes writing by Willa Cather, Joan Didion, Vita Sackville-West, M. F. K Fisher, Christina Dodwell and more. ...Show more
$29.99
AUD
Category: Travel | Series: City Ser.
Razed to the ground four times in its short history, the city of Darwin, Australia, has picked itself up out of the debris to not only rebuild but grow. Darwin has known catastrophes and resurrections; it has endured misconceived projects and birthed visionaries. To write about her home town, Tess Lea w aded knee-deep in memories of the city, including those of her family and her own. The story begins in 1974, when Cyclone Tracy shattered Darwin, and Lea was a little girl. Then it takes us back to the wild times of early settlement, explores the backstory of the White Australia policy, paints a vivid picture of the bombing of Darwin during World War II, and guides us to Australia's militarized future, led by Darwin, sitting as it does under the largest aerial defense training space in the world. Lyrical and visceral, Tess Lea's ode to her hometown is suffused with the textures, colors, scents and the many gritty realities that beset this tough, fragile, magical, foolhardy, and unique place. ...Show more
$29.99
AUD
Category: Travel | Series: City Ser.
Consisting of a painting, a frog cake, a landmark, a statue, a haunting newspaper photograph, a bucket of peaches, pink shorts in parliament, concert tickets, and tourist maps, this book is a museum of sorts--a personal guide to the city of Adelaide, Australia, through a collection of iconic objects. Th ese objects explore the beautiful, commonplace, dark, and contradictory history of Adelaide, including the heat, the wine, the weirdness, the progressive politics, the rigid colonial formality, the sinister horrors, and the homey friendliness. A unique way of looking at the city through a small-scale lens, this evocative handbook will engage residents and visitors alike. ...Show more