$12.99
AUD
Category: Anthologies, Essays & Journals
Deeply personal and powerfully moving, a short and timely series of essays on the experience of lockdown, by one of the most clear-sighted and essential writers of our time From the critically acclaimed author of Feel Free, Swing Time, White Teeth and many more 'There will be many books written about the year 2020: historical, analytic, political and comprehensive accounts. This is not any of those. What I've tried to do is organize some of the feelings and thoughts that events, so far, have provoked in me, in those scraps of time the year itself has allowed. These are, above all, personal essays: small by definition, short by necessity. Early on in the crisis, I picked up Marcus Aurelius and for the first time in my life read his Meditations not as an academic exercise, nor in pursuit of pleasure, but with the same attitude I bring to the instructions for a flat-pack table - I was in need of practical assistance. I am no more a Stoic now than I was when I opened that ancient book, but I did come out with two invaluable intimations. Talking to yourself can be useful. And writing means being overheard.' Crafted with the sharp intelligence, wit and style that have won Zadie Smith millions of fans, and suffused with a profound intimacy and tenderness in response to these unprecedented times, Intimations is a vital work of art, a gesture of connection and an act of love - an essential book in extraordinary times. ...Show more
$26.99
AUD
Category: Anthologies, Essays & Journals
'Rich. . . eclectic. . . a feast' Telegraph Jhumpa Lahiri's landmark collection brings together forty writers that reflect over a hundred years of Italy's vibrant and diverse short story tradition, including well known authors such as Italo Calvino, Elsa Morante and Luigi Pirandello, alongside many cap tivating rediscoveries. Poets, journalists, visual artists, musicians, editors, critics, teachers, scientists, politicians, translators: the writers that inhabit these pages represent a dynamic cross section of Italian society. 'An enticing collection . . . the tales are by turns startling, moving, intriguing and provocative' The Times Literary Supplement ...Show more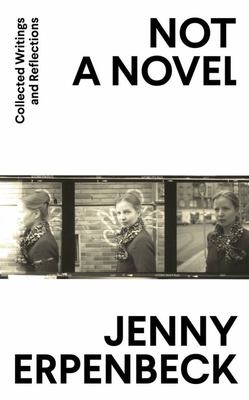 $29.99
AUD
Category: Anthologies, Essays & Journals
A collection of intimate and explosive essays on literature, life, history, politics and place from the award-winning author of Go, Went, Gone and The End of Days. Not a Novel gathers together the best of Jenny Erpenbeck's non-fiction. Drawing from her 25 years of thinking and writing, the book plots a journey through the works and subjects that have inspired and influenced her. Written with the same clarity and insight that characterise her fiction, the pieces range from literary criticism and reflections on Germany's history, to the autobiographical essays where Erpenbeck forgoes the literary cloak to write from a deeply personal perspective about life and politics, hope and despair, and the role of the writer in grappling with these forces. Here we see one of the most searching of European writers reckoning with her country's divided past in all its complexity, and responding to the world today with insight, intelligence and humanity. ...Show more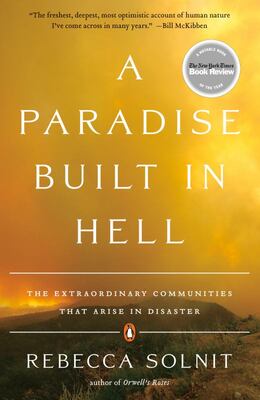 $34.99
AUD
Category: Anthologies, Essays & Journals
"The freshest, deepest, most optimistic account of human nature I've come across in years." -Bill McKibben The most startling thing about disasters, according to award-winning author Rebecca Solnit, is not merely that so many people rise to the occasion, but that they do so with joy. hat joy reveals a n ordinarily unmet yearning for community, purposefulness, and meaningful work that disaster often provides. A Paradise Built in Hell is an investigation of the moments of altruism, resourcefulness, and generosity that arise amid disaster's grief and disruption and considers their implications for everyday life. It points to a new vision of what society could become-one that is less authoritarian and fearful, more collaborative and local. ...Show more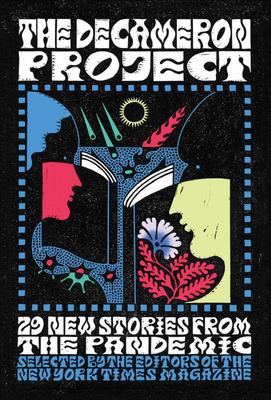 $35.00
AUD
Category: Anthologies, Essays & Journals
A stunning collection of new short stories originally commissioned by The New York Times Magazine as the COVID-19 pandemic swept the world, from twenty-nine authors including Margaret Atwood, Tommy Orange, Colm Toibin, Kamilia Shamsie, David Mitchell and more, in a project inspired by Boccaccio's The De cameron. When reality is surreal, only fiction can make sense of it. In 1353, Giovanni Boccaccio wrote "The Decameron": one hundred nested tales told by a group of young men and women passing the time at a villa outside Florence while waiting out the gruesome Black Death, a plague that killed more than 25 million people. Some of the stories are silly, some are bawdy, some are like fables. In March of 2020, the editors of The New York Times Magazine created The Decameron Project, an anthology with a simple, time-spanning goal: to gather a collection of stories written as our current pandemic first swept the globe. How might new fiction from some of the finest writers working today help us memorialize and understand the unimaginable? And what could be learned about how this crisis will affect the art of fiction? These twenty-nine new stories, from authors including Margaret Atwood, Tommy Orange, Edwidge Danticat, and David Mitchell vary widely in texture and tone. Their work will be remembered as a historical tribute to a time and place unlike any other in our lifetimes, and offer perspective and solace to the reader now and in a future where coronavirus is, hopefully, just a memory.   ...Show more
$26.99
AUD
Category: Anthologies, Essays & Journals | Reading Level: Adult
At the height of his powers in this remarkable (and often witty) book, Robert Dessaix addresses these increasingly urgent questions in inimitable prose and comes up with some surprising answers. From Java to Hobart via Berlin, Dessaix invites us to eavesdrop on his intimate, no-nonsense conversations ab out ageing with friends and chance acquaintances. Reflecting on time, religion, painting, dancing and even grandchildren, Dessaix takes us on an enlivening journey across the landscape of growing older. Riffing on writers and thinkers from Plato to Eva Hoffman, he homes in on the crucial importance of a rich inner life. The Time of Our Lives is a wise and timely exploration of not just the challenges but also the many possibilities of old age. ...Show more
$22.99
AUD
Category: Anthologies, Essays & Journals
Collective Winner of the 2019 Highland Book PrizeUnder the ravishing light of an Alaskan sky, objects are spilling from the thawing tundra linking a Yup'ik village to its hunter-gatherer past. In the shifting sand dunes of a Scottish shoreline, impressively preserved hearths and homes of Neolithic farme rs are uncovered. In a grandmother's disordered mind, memories surface of a long-ago mining accident and a 'mither who was kind'.For this luminous new essay collection, acclaimed author Kathleen Jamie visits archaeological sites and mines her own memories - of her grandparents, of youthful travels - to explore what surfaces and what reconnects us to our past. As always she looks to the natural world for her markers and guides. Most movingly, she considers, as her father dies, and her children leave home, the surfacing of an older, less tetheredsense of herself.Surfacing offers a profound sense of time passing and an antidote to all that is instant, ephemeral, unrooted. ...Show more
$6.99
AUD
Category: Anthologies, Essays & Journals
We are here to remember what happened and to declare solemnly that 'they' must never do it again. But who are 'they'? HOW TO SPOT A FASCIST is a selection of three thought-provoking essays on freedom and fascism, censorship and tolerance - including Eco's iconic essay 'Ur-Fascism', which lists the fourt een essential characteristics of fascism, and draws on his own personal experiences growing up in the shadow of Mussolini. Umberto Eco remains one of the greatest writers and cultural commentators of the last century. In these pertinent pieces, he warns against prejudice and abuses of power and proves a wise and insightful guide for our times. If we strive to learn from our collective history and come together in challenging times, we can hope for a peaceful and tolerant future. Freedom and liberation are never-ending tasks. Let this be our motto- 'Do not forget.' ...Show more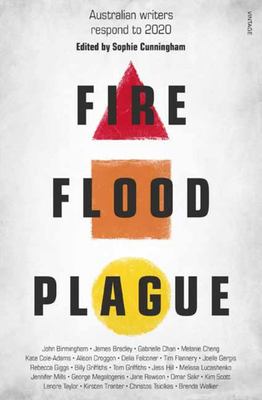 $29.99
AUD
Category: Anthologies, Essays & Journals
Writers, scientists, historians, journalists and commentators consider subjects as broad as culture and the arts, working as a doctor, travel, domestic violence, security, immigration, the death of a loved one, geopolitics, distance and zoom to ensure we never forget the experience of this pile-on of a year. Including original pieces from Lenore Taylor, Nyadol Nuon, Christos Tsiolkas, Melissa Lucashenko, Billy Griffiths, Jess Hill, Kim Scott, Brenda Walker, Jane Rawson, Omar Sakr, Richard McGregor, Jennifer Mills, Gabrielle Chan, John Birmingham, Tim Flannery, Rebecca Giggs, Kate Cole-Adams, George Megalogenis, James Bradley, Alison Croggan, Melanie Cheng, Kirsten Tranter, Tom Griffiths, Joelle Gergis and Delia Falconer.   ...Show more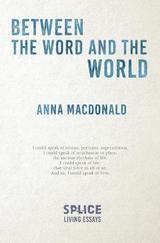 $25.00
AUD
Category: Anthologies, Essays & Journals
Is it possible for an experience of literature to be an experience of life? Can we think of words as existing in three dimensions, as things we move through, in much the same way that we move through the world? And how can we account for their effects beyond the page as we carry them with us, in our bod ies, in our selves, holding on to them over the course of our years? In Between the Word and the World, Anna MacDonald sets out on an eloquent exploration of these questions and the issues they raise. Drifting with ease from fiction to philosophy, from digital ephemera to psychogeography, from archival voyages to personal correspondence, her essays repeatedly probe the mysteries of writing and its power over our moods, our perceptions, and our sense of being. Whether turning her attention to the poetic musings of Esther Kinsky, the sinister imagery of Cynan Jones, or the fragmented politics of Valeria Luiselli, MacDonald enacts new and provocative ways of thinking about reading, writing, and living, so that "the worlds dreamed on and beyond the page bleed into one another." ...Show more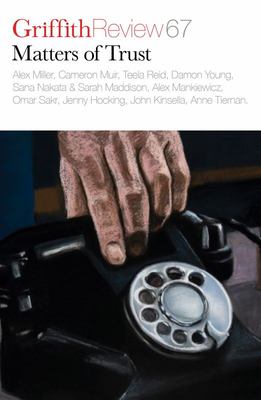 $27.99
AUD
Category: Anthologies, Essays & Journals | Series: Griffith Review Ser.
From our first experiences to our last, institutions structure our world - through education and medicine to politics, justice, civics and religion. But in recent years even the most entrenched of institutions are seemingly on the edge of implosion. Either through deliberate political attacks or as an e ffect of wider disruption, new social forces have issued a comprehensive challenge to the established order. Does this new uncertainty mark a profound loss of trust in how our society is organised and how it operates? Might this be an opportunity for thorough-going reform to regain lost legitimacy, or does it mark an end-point for a social structure that is no longer tenable in the twenty-first century? Can institutions adapt? Can trust be rebuilt? Or will new forms of social organisation eventuate from this gathering sense of crisis? ...Show more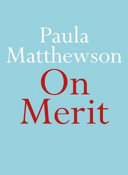 On Merit
by Paula Matthewson
$14.99
AUD
Category: Anthologies, Essays & Journals
Merit has very little to do with the increasing dominance of men in the modern in the Liberal Party. Yet Liberal women continue to defend it. Until now. On Meritexplores this imbalance, its implications for the party?s future, and how a pair of red shoes may spark a rebellion against the merit myth.