$59.99
AUD
Category: Film & TV
A fully revised, updated and expanded edition of the seminal text on film   A new edition of the most accessible and compelling history of the cinema yet published, which is now updated with extra chapters. The Story of Film explores cinema from around the world and shows how cinematic ideas and techn iques cross national boundaries. Divided into three main epochs--Silent (1885-1928), Sound (1928-1990), and Digital (1990-Present)--the movies are discussed within chapters reflecting both the stylistic concerns of the moviemakers and the political and social themes of the time. This edition includes new text that encompasses the further-reaching scope of world cinema today, and the huge leaps in technology that have changed cinema screens forever. Clearly written, and illustrated with over 400 stills, including numerous sequences explaining how scenes work, The Story of Film is essential reading for both film students and the general moviegoer. "The Story of Film is no mere reference volume or coffee-table book, although it could function perfectly respectably as both. Rather, it's a romantic, fiercely intelligent re-mapping of cinema that also celebrates it as a mysterious synthesis of inspiration and craft." --The Daily Telegraph "Mark Cousins is incapable of writing anything about cinema history without making it fascinating." --Sean Connery ...Show more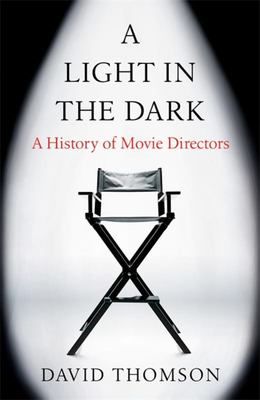 $32.99
AUD
Category: Film & TV
In little more than a century of cinema - Birth of a Nation was one hundred years old in 2015 - our sense of what a film director is, or should be, has shifted in fascinating ways. A director was once a functionary; then an important but not decisive part of an industrial process; then accepted as the p erson who was and should be in charge, because he was an artist and a hero. But the world has changed. In a nutshell, the change takes the form of a question: Who directed The Sopranos or Homeland? Hardly anyone knows, because we don't tend to read TV credits and the director has returned to a more subservient and anonymous role. Directors now try to be efficient, the deliverers of profitable films, and are often involved as producers, like Steven Spielberg. David Thomson's brilliant A LIGHT IN THE DARK personalises each chapter through an individual: Jean Renoir, Howard Hawks, Jean-Luc Godard, Alfred Hitchcock, Luis Bunuel, Orson Welles, Fritz Lang, Jane Campion, Stephen Frears and Quentin Tarantino. Through these characters (and other directors not mentioned here), David Thomson relates an imaginative new history of a medium that has changed the world. ...Show more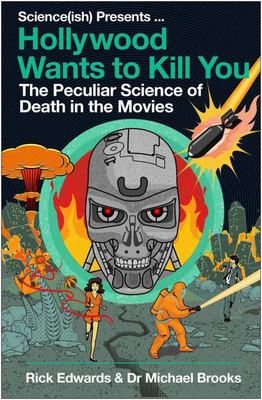 $22.99
AUD
Category: Film & TV
The hilarious new popular science book from the bestselling authors of the Sunday Times Book of the Year Science(ish).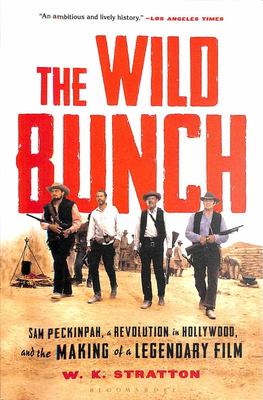 $22.99
AUD
Category: Film & TV
W.K. Stratton's definitive history of the making of The Wild Bunch, named one of the greatest Westerns of all time by the American Film Institute. Sam Peckinpah's film The Wild Bunch is the story of a gang of outlaws who are one big steal from retirement. When their attempted train robbery goes awry, th e gang flees to Mexico and falls in with a brutal general of the Mexican Revolution, who offers them the job of a lifetime. Conceived by a stuntman, directed by a blacklisted director, and shot in the sand and heat of the Mexican desert, the movie seemed doomed. Instead, it became an instant classic with a dark, violent take on the Western movie tradition. Fifty years after its release, W.K. Stratton tells the fascinating history of the movie and documents for the first time the extraordinary contribution of Mexican and Mexican-American actors and crew members to its success. Shaped by infamous director Sam Peckinpah, and starring such visionary actors as William Holden, Ernest Borgnine, Edmond O'Brien, and Robert Ryan, the movie was also the product of an industry and a nation in transition. By 1968, when it was being filmed, the studio system that had perpetuated the myth of the valiant cowboy in movies like The Searchers had collapsed, and America was riled by Vietnam, race riots, and assassinations. The Wild Bunch spoke to the country when war and senseless violence seemed to define both domestic and international life. Stratton's The Wild Bunch is the authoritative history of the making of a movie and the era behind it. ...Show more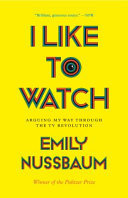 $29.99
AUD
Category: Film & TV
From The New Yorker's fiercely original, Pulitzer Prize-winning culture critic, a provocative collection of new and previously published essays arguing that we are what we watch."Emily Nussbaum is the perfect critic--smart, engaging, funny, generous, and insightful."--David Grann, author of Killers of t he Flower Moon   NAMED ONE OF THE BEST BOOKS OF THE YEAR BY NPR - Chicago Tribune - Esquire - Library Journal - Kirkus Reviews From her creation of the "Approval Matrix" in New York magazine in 2004 to her Pulitzer Prize-winning columns for The New Yorker, Emily Nussbaum has argued for a new way of looking at TV. In this collection, including two never-before-published essays, Nussbaum writes about her passion for television, beginning with Buffy the Vampire Slayer, the show that set her on a fresh intellectual path. She explores the rise of the female screw-up, how fans warp the shows they love, the messy power of sexual violence on TV, and the year that jokes helped elect a reality-television president. There are three big profiles of television showrunners--Kenya Barris, Jenji Kohan, and Ryan Murphy--as well as examinations of the legacies of Norman Lear and Joan Rivers. The book also includes a major new essay written during the year of #MeToo, wrestling with the question of what to do when the artist you love is a monster.   More than a collection of reviews, the book makes a case for toppling the status anxiety that has long haunted the "idiot box," even as it transformed. Through it all, Nussbaum recounts her fervent search, over fifteen years, for a new kind of criticism, one that resists the false hierarchy that elevates one kind of culture (violent, dramatic, gritty) over another (joyful, funny, stylized). I Like to Watch traces her own struggle to punch through stifling notions of "prestige television," searching for a more expansive, more embracing vision of artistic ambition--one that acknowledges many types of beauty and complexity and opens to more varied voices. It's a book that celebrates television as television, even as each year warps the definition of just what that might mean.   FINALIST FOR THE PEN/DIAMONSTEIN-SPIELVOGEL AWARD FOR THE ART OF THE ESSAY   "This collection, including some powerful new work, proves once and for all that there's no better American critic of anything than Emily Nussbaum. But I Like to Watch turns out to be even greater than the sum of its brilliant parts--it's the most incisive, intimate, entertaining, authoritative guide to the shows of this golden television age."--Kurt Andersen, author of Fantasyland   "Reading Emily Nussbaum makes us smarter not just about what we watch, but about how we live, what we love, and who we are. I Like to Watch is a joy."--Rebecca Traister ...Show more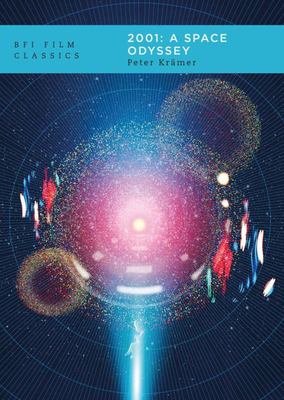 $24.99
AUD
Category: Film & TV | Series: BFI Film Classics Ser.
Stanley Kubrick's 2001- A Space Odyssey (1968) is widely regarded as one of the best films ever made. It has been celebrated for its beauty and mystery, its realistic depiction of space travel and dazzling display of visual effects, the breathtaking scope of its story, which reaches across millions of y ears, and the thought-provoking depth of its meditation on evolution, technology and humanity's encounters with the unknown. 2001 has been described as the most expensive avant-garde movie ever made and as a psychedelic trip, a unique expression of the spirit of the 1960s and as a timeless masterpiece. Peter Kr mer's insightful study explores 2001's complex origins, the unique shape it took and the extraordinary impact it made on contemporary audiences, drawing on new research in the Stanley Kubrick Archive to challenges many of the widely-held assumptions about the film. This edition includes a new afterword by the author. ...Show more
Psychomagic
by Alejandro Jodorowsky
$44.99
AUD
Category: Film & TV
A healing path using the power of dreams, theater, poetry, and shamanism   - Shows how psychological realizations can cause true transformation when manifested by concrete poetic acts   - Includes many examples of the surreal but successful actions Jodorowsky has prescribed to those seeking his help   While living in Mexico, Alejandro Jodorowsky became familiar with the colorful and effective cures provided by folk healers. He realized that it is easier for the unconscious to understand the language of dreams than that of rationality. Illness can even be seen as a physical dream that reveals unresolved emotional and psychological problems.   Psychomagic presents the shamanic and genealogical principles Jodorowsky discovered to create a healing therapy that could use the powers of dreams, art, and theater to empower individuals to heal wounds that in some cases had traveled through generations. The concrete and often surreal poetic actions Jodorowsky employs are part of an elaborate strategy intended to break apart the dysfunctional persona with whom the patient identifies in order to connect with a deeper self. That is when true transformation can manifest.   For a young man who complained that he lived only in his head and was unable to grab hold of reality and advance toward the financial autonomy he desired, Jodorowsky gave the prescription to paste two gold coins to the soles of his shoes so that all day he would be walking on gold. A judge whose vanity was ruling his every move was given the task of dressing like a tramp and begging outside one of the fashionable restaurants he loved to frequent while pulling glass doll eyes out of his pockets. The lesson for him was that if a tramp can fill his pockets with eyeballs, then they must be of no value, and thus the eyes of others should have no bearing on who you are and what you do. Taking his patients directly at their words, Jodorowsky takes the same elements associated with a negative emotional charge and recasts them in an action that will make them positive and enable them to pay the psychological debts hindering their lives. ...Show more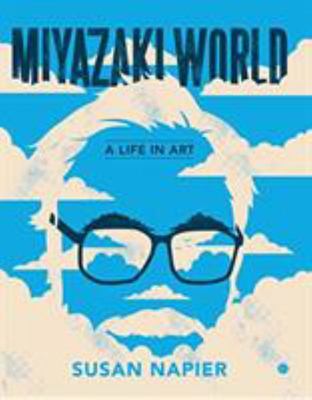 $38.99
AUD
Category: Film & TV
The story of filmmaker Hayao Miyazaki's life and work, including his significant impact on Japan and the world A thirtieth century toxic jungle, a bathhouse for tired gods, a red haired fish girl, and a furry woodland spirit--what do these have in common? They all spring from the mind of Hayao Miyazaki , one of the greatest living animators, known worldwide for films such as My Neighbor Totoro, Princess Mononoke, Spirited Away, Howl's Moving Castle, and The Wind Rises.   Japanese culture and animation scholar Susan Napier explores the life and art of this extraordinary Japanese filmmaker to provide a definitive account of his oeuvre. Napier insightfully illuminates the multiple themes crisscrossing his work, from empowered women to environmental nightmares to utopian dreams, creating an unforgettable portrait of a man whose art challenged Hollywood dominance and ushered in a new chapter of global popular culture.   ...Show more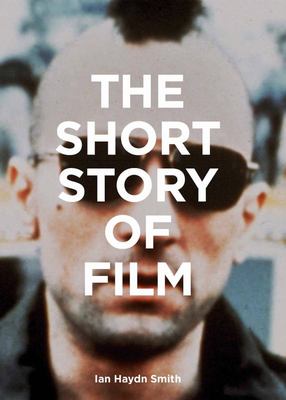 $29.99
AUD
Category: Film & TV | Series: The\Short Story Of Ser.
The Short Story of Film is a new and innovative introduction to the art of film-making. Simply constructed, the book explores 50 key movies, from superhero blockbusters to indie darlings. The design of the book allows the reader to navigate their way around key genres, movements, and techniques with eas e. Accessible, concise, and fun to read, this pocket guide will give moviegoers a new way to enjoy their favorite films and to discover new ones to watch. ...Show more
$39.99
AUD
Category: Film & TV
'A multifaceted dissection of the infamous noir film ... good reading for any American cinema buff' Kirkus Chinatown is the Holy Grail of 1970s cinema. Its ending is the most notorious in American film and its closing line of dialogue the most haunting. Here for the first time is the incredible true sto ry of its making. In Sam Wasson's telling, it becomes the defining story of its most colorful characters. Here is Jack Nicholson at the height of his powers, embarking on his great, doomed love affair with Anjelica Huston. Here is director Roman Polanski, both predator and prey, haunted by the savage murder of his wife, returning to Los Angeles, where the seeds of his own self-destruction are quickly planted. Here is the fevered deal-making of "The Kid" Robert Evans, the most consummate of producers. Here too is Robert Towne's fabled script, widely considered the greatest original screenplay ever written. Wasson for the first time peels off layers of myth to provide the true account of its creation. Looming over the story of this classic movie is the imminent eclipse of the '70s filmmaker-friendly studios as they gave way to the corporate Hollywood we know today. ...Show more
$29.99
AUD
Category: Film & TV
Legendary Children centres itself around the idea that not only is RuPaul's Drag Race the queerest show in the history of television, but that RuPaul and company devised a show that serves as an actual museum of queer cultural and social history, drawing on queer traditions and the work of legendary fig ures going back nearly a century. In doing so, Drag Race became not only a repository of queer history and culture, but also an examination and illustration of queer life in the modern age. ...Show more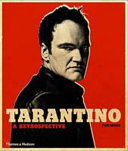 $49.99
AUD
Category: Film & TV
Quentin Tarantino is one of the most influential and distinctive filmmakers at work in the world today. His films are so admired that nearly every one he makes becomes an instant cult classic. Here, Tom Shone presents in-depth commentaries on each of the ten films Tarantino has directed, from Reservoir Dogs to Once Upon a Time in Hollywood, as well as looking at his early life, acting career, and his indisputable talent for scriptwriting. Illustrated with more than two hundred film stills and behind-the-scenes images, Tarantino: A Retrospective is a tribute to the great auteur's unique talent. ...Show more