$19.99
AUD
Category: Fiction
An instant New York Times Bestseller! Named one of the most anticipated books of 2019 by Vulture, Entertainment Weekly, Buzzfeed, Los Angeles Times, Boston Globe, Oprah.com, Huffington Post, The A.V. Club, Nylon, The Week, The Rumpus, The Millions, The Guardian, Publishers Weekly, and more. "A lyrical w ork of self-discovery that's shockingly intimate and insistently universal...Not so much briefly gorgeous as permanently stunning."--Ron Charles, The Washington Post Poet Ocean Vuong's debut novel is a shattering portrait of a family, a first love, and the redemptive power of storytelling On Earth We're Briefly Gorgeous is a letter from a son to a mother who cannot read. Written when the speaker, Little Dog, is in his late twenties, the letter unearths a family's history that began before he was born -- a history whose epicenter is rooted in Vietnam -- and serves as a doorway into parts of his life his mother has never known, all of it leading to an unforgettable revelation. At once a witness to the fraught yet undeniable love between a single mother and her son, it is also a brutally honest exploration of race, class, and masculinity. Asking questions central to our American moment, immersed as we are in addiction, violence, and trauma, but undergirded by compassion and tenderness, On Earth We're Briefly Gorgeous is as much about the power of telling one's own story as it is about the obliterating silence of not being heard. With stunning urgency and grace, Ocean Vuong writes of people caught between disparate worlds, and asks how we heal and rescue one another without forsaking who we are. The question of how to survive, and how to make of it a kind of joy, powers the most important debut novel of many years.   ...Show more
$19.99
AUD
Category: Fiction
THE SUNDAY TIMESBESTSELLER Alexandr and Christine and Zachary and Lydia have been close friends since they first met in their twenties. Thirty years later Alex and Christine are spending a leisurely summer evening at home when they receive a call from a distraught Lydia. Zach is dead. In the wake of t his profound loss, the three friends find themselves unmoored; all agree that Zach was the sanest and kindest of them all, the irreplaceable one they couldn't afford to lose. Inconsolable, Lydia moves in with Alex and Christine. But instead of loss bringing them closer, the three of them find over the following months that it warps their relationships, as old entanglements and grievances rise from the past, and love and sorrow give way to anger and bitterness. Late in the Dayexplores the tangled webs at the centre of our most intimate relationships, to expose how beneath the seemingly dependable arrangements we make for our lives lie infinite alternate configurations. 'A fine-grained novel of friendship, loss and jealousy' Sunday Times, *100 Great 21-Century Novels* ...Show more
$14.99
AUD
Category: Classics | Series: Evergreens Ser.
The Tenant of Wildfell Hall is the second and final novel by the English author Anne Brontë. It was first published in 1848 under the pseudonym Acton Bell. Probably the most shocking of the Brontës' novels, it had an instant and phenomenal success, but after Anne's death her sister Charlotte prevented i ts re-publication.The novel is framed as a series of letters from Gilbert Markham to his friend and brother-in-law about the events connected with the meeting of his wife. A mysterious young widow arrives at Wildfell Hall, an Elizabethan mansion which has been empty for many years, with her young son and servant. She lives there in strict seclusion under the assumed name Helen Graham and soon finds herself the victim of local slander. Refusing to believe anything scandalous about her, Gilbert befriends Helen and discovers her past. In her diary, Helen depicts her husband's physical and moral decline through alcohol and her desperate attempts to save their son from his influence in the dissipated aristocratic society from which she ultimately flees. The depiction of marital strife and women's professional identification has also a strong moral message mitigated by authors's belief in universal salvation.Most critics now consider The Tenant of Wildfell Hall to be one of the first feminist novels. May Sinclair, in 1913, said that the slamming of Helen's bedroom door against her husband reverberated throughout Victorian England. In leaving her husband, Helen violates not only social conventions, but also the early 19th century English law. ...Show more
$22.99
AUD
Category: Fiction | Reading Level: near fine
When Cora Seaborne's brilliant, domineering husband dies, she steps into her new life as a widow with as much relief as sadness: her marriage was not a happy one. Wed at nineteen, this woman of exceptional intelligence and curiosity was ill-suited for the role of society wife. Seeking refuge in fresh ai r and open space in the wake of the funeral, Cora leaves London for a visit to coastal Essex, accompanied by her inquisitive and obsessive eleven-year old son, Francis, and the boy's nanny, Martha, her fiercely protective friend.While admiring the sites, Cora learns of an intriguing rumor that has arisen further up the estuary, of a fearsome creature said to roam the marshes claiming human lives. After nearly 300 years, the mythical Essex Serpent is said to have returned, taking the life of a young man on New Year's Eve. A keen amateur naturalist with no patience for religion or superstition, Cora is immediately enthralled and certain that what the local people think is a magical sea beast may be a previously undiscovered species. Eager to investigate, she is introduced to local vicar William Ransome. Will, too, is suspicious of the rumors. But unlike Cora, this man of faith is convinced the rumors are caused by moral panic, a flight from true belief.These seeming opposites who agree on nothing soon find themselves inexorably drawn together and torn apart-an intense relationship that will change both of their lives in ways entirely unexpected. ...Show more
$14.99
AUD
Category: Classics | Series: The Penguin English Library
"But you do," he went on, not waiting for contradiction. "You love the boy body and soul, plainly, directly, as he loves you, and no other word expresses it ..." Lucy has her rigid, middle-class life mapped out for her until she visits Florence with her uptight cousin Charlotte, and finds her neatly ord ered existence thrown off balance. Her eyes are opened by the unconventional characters she meets at the Pension Bertolini: flamboyant romantic novelist Eleanor Lavish, the Cockney Signora, curious Mr Emerson and, most of all, his passionate son George. Lucy finds herself torn between the intensity of life in Italy and the repressed morals of Edwardian England, personified in her terminally dull fiance Cecil Vyse. Will she ever learn to follow her own heart? The "Penguin English Library" - 100 editions of the best fiction in English, from the eighteenth century and the very first novels to the beginning of the First World War. ...Show more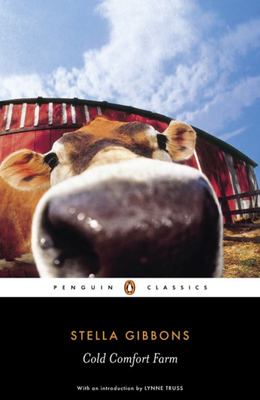 $19.99
AUD
Category: Classics | Series: Penguin Classics Deluxe Edition Ser.
When sensible, sophisticated Flora Poste is orphaned at nineteen, she decides her only choice is to descend upon relatives in deepest Sussex. At the aptly named Cold Comfort Farm, she meets the doomed Starkadders: cousin Judith, heaving with remorse for unspoken wickedness; Amos, preaching fire and damn ation; their sons, lustful Seth and despairing Reuben; child of nature Elfine; and crazed old Aunt Ada Doom, who has kept to her bedroom for the last twenty years. But Flora loves nothing better than to organize other people. Armed with common sense and a strong will, she resolves to take each of the family in hand. A hilarious and merciless parody of rural melodramas, "Cold Comfort Farm" (1932) is one of the best-loved comic novels of all time. ...Show more
Items per page:
1 - 6 of 6