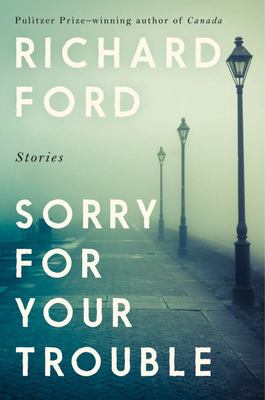 $29.99
AUD
Category: Fiction
A landmark new collection of stories from Richard Ford that showcases his brilliance, sensitivity, and trademark wit. In Sorry for Your Trouble, Pulitzer Prize winner and New York Times-bestselling author Richard Ford enacts a stunning meditation on memory, love and loss. "Displaced" returns us to a y oung man's Mississippi adolescence, and to a shocking encounter with a young Irish immigrant who recklessly tries to solace the narrator's sorrow after his father's death.  "Driving Up" follows an American woman's late-in-life journey to Canada to bid good-bye to a lost love now facing the end of this life.  "The Run of Yourself," a novella, sees a New Orleans lawyer navigating the difficulties of living beyond his Irish wife's death.  And "Nothing to Declare" follows a man and a woman's chance re-meeting in the New Orleans French Quarter, after twenty years, and their discovery of what's left of love for them. Typically rich with Ford's emotional lucidity and lyrical precision, Sorry for Your Trouble is a memorable collection from one of our greatest writers. ...Show more
Spring
by Ali Smith
$19.99
AUD
Category: Fiction | Series: Seasonal Quartet Ser.
What unites Katherine Mansfield, Charlie Chaplin, Shakespeare, Beethoven, Brexit, the present, the past, the north, the south, the east, the west, a man mourning lost times, a woman trapped in modern times? Spring. The great connective. With an eye to the migrancy of story over time, and riffing on Pe ricles, one of Shakespeare's most resistant and rollicking works, Ali Smith tells the impossible tale of an impossible time. In a time of walls and lockdown, Smith opens the door. The time we're living in is changing nature. Will it change the nature of story? Hope springs eternal. ...Show more
$29.99
AUD
Category: Fiction
Inspired by a real event of the murder of a woman in rural Mexico, Hurricane Season takes place in a world filled with superstitions and violence--violence that poisons everything around. The Witch is dead. After a group of children playing in the murky waters of the irrigation canals discover her decom posing corpse, the village is rife with rumours and suspicions about the murder of this feared and respected woman, who had carried out the community's ritual shamanic customs. In dazzling, visceral language, Melchor extracts humanity from otherwise irredeemably brutal characters, and spins a terrifying and heartrending tale of dark suspense in a Mexican village that seems damned. 'Melchor wields a sentence like a saber. She never flinches in the bold, precise strokes of Hurricane Season. In prose as precise and breathtaking as it is unsettling, Melchor has crafted an unprecedented novel about femicide in Mexico and how poverty and extreme power imbalances lead to violence everywhere.' Idra Novey, author of Those Who Knew 'Fernanda Melchor has a powerful voice, and by powerful I mean unsparing, devastating, the voice of someone who writes with rage, and has the skill to pull it off.' Samanta Schweblin ...Show more
$19.99
AUD
Category: Fiction
Teeming with energy, humour and heart, a love song to black Britain told by twelve very different people. Grace is a Victorian orphan dreaming of the mysterious African father she will never meet. Winsome is a young Windrush bride, recently arrived from Barbados. Amma is the fierce queen of her 1980s squatters' palace. Morgan, who used to be Megan, is blowing up on social media, the newest activist-influencer on the block. Twelve very different people, mostly black and female, more than a hundred years of change, and one sweeping, vibrant, glorious portrait of contemporary Britain. Bernardine Evaristo presents a gloriously new kind of history for this old country- ever-dynamic, ever-expanding and utterly irresistible. ...Show more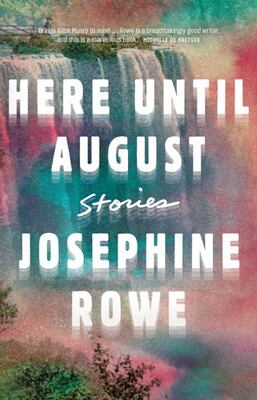 $29.99
AUD
Category: Fiction
A masterful collection of heartbreak, travel and seduction from an internationally acclaimed Australian author. These superbly crafted stories follow the fates of characters who, by choice or by force, are travelling beyond the boundaries of their known worlds. We meet them negotiating reluctant departu res, navigating uncertain returns or biding the disquieting calm that often precedes decisive action. An agoraphobic French emigre watches disturbing terrorist footage as she minds a dog named Chavez. A young couple weather the interiority of a Montreal winter, more attuned to the illicit goings-on of their neighbours than to their own hazy, unfolding futures. A Melbourne writer of real-estate listings reflects on the stifling power of shared history as she wonders what life might be like over the fence. Other stories play out in places just beyond the brink of familiarity- flooded townships and distant lakes, sunlit woodlands or paths bright with ice, places of unpredictable access and spaces scrubbed from maps. From the Catskill Mountains to New South Wales, the abandoned island outports of Newfoundland to the sprawl of an Australian metropolis, this scintillating collection from one of Australia's most gifted writers shows us how the places we inhabit shape us in ways both remote and intimate. Praise for Josephine Rowe 'Her gorgeous, precise language encourages inner storms.' The New York Times Book Review   ...Show more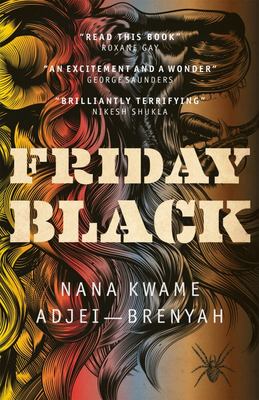 $22.99
AUD
Category: Fiction
INSTANTNEW YORK TIMESBESTSELLER "An unbelievable debut, one that announces a new and necessary American voice."--Tommy Orange,New York Times Book Review "An excitement and a wonder: strange, crazed, urgent and funny." --George Saunders "Dark and captivating and essential . . . A call to arms and a condemnation . . . Read this book."--Roxane Gay A National Book Foundation "5 Under 35" honoree, chosen by Colson Whitehead Winner of the PEN/Jean Stein Book Award Finalist for the National Book Critics Circle's John Leonard Award for Best First Book A piercingly raw debut story collection from a young writer with an explosive voice; a treacherously surreal, and, at times, heartbreakingly satirical look at what it's like to be young and black in America. From the start of this extraordinary debut, Nana Kwame Adjei-Brenyah's writing will grab you, haunt you, enrage and invigorate you. By placing ordinary characters in extraordinary situations, Adjei-Brenyah reveals the violence, injustice, and painful absurdities that black men and women contend with every day in this country. These stories tackle urgent instances of racism and cultural unrest, and explore the many ways we fight for humanity in an unforgiving world. In "The Finkelstein Five," Adjei-Brenyah gives us an unforgettable reckoning of the brutal prejudice of our justice system. In "Zimmer Land," we see a far-too-easy-to-believe imagining of racism as sport. And "Friday Black" and "How to Sell a Jacket as Told by Ice King" show the horrors of consumerism and the toll it takes on us all. Entirely fresh in its style and perspective, and sure to appeal to fans of Colson Whitehead, Marlon James, and George Saunders, Friday Black confronts readers with a complicated, insistent, wrenching chorus of emotions, the final note of which, remarkably, is hope. ...Show more
$19.99
AUD
Category: Fiction
Dinesh is a young man trapped on the frontlines between the Sri Lankan army and the Tamil Tigers. Desensitized to the horror all around him, life has been pared back to the essentials: eat, sleep, survive. All this changes when he is approached one morning by an older man who asks him to marry his daugh ter Ganga, hoping that victorious soldiers will be less likely to harm a married woman. For a few brief hours, Dinesh and Ganga tentatively explore their new and unexpected connection, trying to understand themselves and each other, until the war once more closes over them. Told in meditative, nuanced and powerful prose, this shattering novel marks the arrival of an extraordinary new literary voice. ...Show more
$19.99
AUD
Category: Fiction
In a London flat, two young boys face the unbearable sadness of their mother's sudden death. Their father, a Ted Hughes scholar and scruffy romantic, imagines a future of well-meaning visitors and emptiness. In this moment of despair they are visited by Crow - antagonist, trickster, healer, babysitter. This sentimental bird is drawn to the grieving family and threatens to stay until they no longer need him. As weeks turn to months and the pain of loss gives way to memories, the little unit of three starts to heal. In this extraordinary debut - part novella, part polyphonic fable, part essay on grief - Max Porter's compassion and bravura style combine to dazzling effect. Full of unexpected humour and profound emotional truth, Grief Is the Thing with Feathers marks the arrival of a thrilling new talent. ...Show more
Submission
by Michel Houellebecq
$22.99
AUD
Category: Fiction
In a near-future France, Fran ois, a middle-aged academic, is watching his life slowly dwindle to nothing. His sex drive is diminished, his parents are dead, and his lifelong obsession - the ideas and works of the nineteenth-century novelist Joris-Karl Huysmans - has led him nowhere. In a late-capitalis t society where consumerism has become the new religion, Fran ois is spiritually barren, but seeking to fill the vacuum of his existence. And he is not alone. As the 2022 Presidential election approaches, two candidates emerge as favourites- Marine Le Pen of the Front National, and Muhammed Ben Abbes of the nascent Muslim Fraternity. Forming a controversial alliance with the mainstream parties, Ben Abbes sweeps to power, and overnight the country is transformed. Islamic law comes into force- women are veiled, polygamy is encouraged and, for Fran ois, life is set on a new course. Submissionis both a devastating satire and a profound meditation on isolation, faith and love. It is a startling new work by one of the most provocative and prescient novelists of today. ...Show more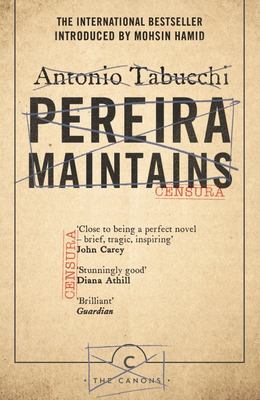 Pereira Maintains
by Antonio Tabucchi; Patrick Creagh (Translator); Mohsin Hamid
$19.99
AUD
Category: Fiction | Series: Canons Ser.
Dr. Pereira is an aging, lonely, overweight journalist who has failed to notice the menacing cloud of fascism over Salazarist Lisbon. One day he meets Montiero Rossi, an aspiring young writer whose anti-fascist fervor is as strong as Pereira's apolitical languor. Eventually, breaking out of the shell of his own inhibitions, Pereira reluctantly rises to heroism--and this arc is "one of the most intriguing and appealing character studies in recent European fiction" (Kirkus). ...Show more
Stoner
by John Williams; John McGahern (Introduction by)
$19.99
AUD
Category: Fiction | Reading Level: very good
Colum McCann once called Stoner one of the great forgotten novels of the past century, but it seems it is forgotten no longer - in 2013 translations of Stoner began appearing on bestseller lists across Europe. Forty-eight years after its first, quiet publication in the US, Stoner is finally finding the wide and devoted readership it deserves. Have you read it yet? William Stoner enters the University of Missouri at nineteen to study agriculture. A seminar on English literature changes his life, and he never returns to work on his father's farm. Stoner becomes a teacher. He marries the wrong woman. His life is quiet, and after his death his colleagues remember him rarely. Yet with truthfulness, compassion and intense power, this novel uncovers a story of universal value. Stoner tells of the conflicts, defeats and victories of the human race that pass unrecorded by history, and reclaims the significance of an individual life. A reading experience like no other, itself a paean to the power of literature, it is a novel to be savoured. ...Show more
$12.95
AUD
Category: Fiction | Series: Text Classics Ser.
This is the story of the families of the plains--obsessed with their land and history, their culture and mythology--and of the man who ventured into their world. First published in 1982, The Plainsis a mesmerising work of startling originality. This handsome new hardback edition is introduced by Ben Le rner, author of the internationally acclaimed novelsLeaving the Atocha Stationand 10:04, and a work of criticism, The Hatred of Poetry. Gerald Murnanewas born in Melbourne in 1939. He has been a primary teacher, an editor and a university lecturer. His debut novel, Tamarisk Row(1974), was followed by ten other works of fiction, including The Plainsand most recently Border Districts. In 1999 Murnane won the Patrick White Award and in 2009 he won the Melbourne Prize for Literature. He lives in western Victoria. 'A distinguished, distinctive, unforgettable novel.'Shirley Hazzard '... a piece of imaginative writing so remarkably sustained that it is a subject for meditation rather than a mere reading ... In the depths and surfaces of this extraordinary fable you will see your inner self eerily reflected again and again.'Sydney Morning Herald 'The Plainshas that peculiar singularity that can make literature great.'Ed Wright,Australian, Best Books of 2015 'Murnane touches on foibles and philosophy, plays with the makings of a fable or allegory, and all the while toys with tone, moving easily from earnest to deadpan to lightly ironic, a meld of Buster Keaton, the Kafka of the short stories, and Swift in A Modest Proposal....A provocative, delightful, diverting must-reread.' STARRED Review, Kirkus Reviews 'Known for its sharp yet defamiliarizing take on the landscape and an aesthetic of purity historically associated with it, The Plainsis uniformly described as a masterpiece of Australian literature. Look closer, though, and it's a haunting nineteenth-century novel of colonial violence captured inside the machine's test-pattern image--a distant, unassuming house on the plains.' BOMB ...Show more