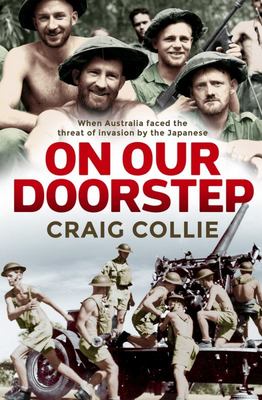 $32.99
AUD
Category: Australian Non fiction
In 1942 Australia faced the threat of invasion by the Japanese. This is what happened.  
$39.99
AUD
Category: Australian Non fiction
A landmark history of Australia's first successful settler farming area, which was on the Hawkesbury-Nepean River. Award-winning historian Grace Karskens uncovers the everyday lives of ordinary people in the early colony, both Aboriginal and British.  
$16.99
AUD
Category: Australian Non fiction | Series: On Ser.
On June 4, Federal Police raided the home of Walkley award-winning journalist Annika Smethurst, changing her life forever. Police claim they were investigating the publication of classified information, her employer called it a 'dangerous act of intimidation', Smethurst believes she was simply doing her job. Smethurst became the accidental poster woman for press freedom as politicians debated the merits of police searching through her underwear drawer. In On Secrets she will discuss the impact this invasion has had on her life, and examine the importance of press freedom. ...Show more
$22.99
AUD
Category: Australian Non fiction
'These two children have been in our Home in Townsville for more than two years, and in view of their very dark colouring, have not been assimilated into the white race. Every effort has been made to place them in a foster home without success because of their colour.' Queensland State Children's Depart ment correspondence, 21 June 1960. The removal of Aboriginal and Torres Strait Islander children from their families remains a dark chapter in Australia's history. Pattie Lees was just ten-years-old when she and her four siblings were separated from their mother on the grounds of neglect and placed into State care. Believing she was being shipped and exiled to Africa, Pattie was ultimately fated to spend the rest of her childhood on the island once dubbed 'Australia's Alcatraz' –Palm Island Aboriginal Settlement, off the coast of Queensland. A Question of Colour; my journey to belonging provides a first-hand account of Pattie's experiences as a 'fair-skinned Aboriginal' during Australia's assimilationist policy era and recounts her survival following a decade of sexual, physical and emotional abuse as a Ward of the State. A Question of Colour is a deeply moving and powerful testimony to the resilience of a young girl, her identity and her journey to belong. ...Show more
$29.99
AUD
Category: Australian Non fiction
Over vast expanses of time, fire and humanity have interacted to expand the domain of each, transforming the earth and what it means to be human. In this concise yet wide-ranging book, Stephen J. Pyne?named by Science magazine as ?the world?s leading authority on the history of fire??explores the surpri sing dynamics of fire before humans, fire and human origins, aboriginal economies of hunting and foraging, agricultural and pastoral uses of fire, fire ceremonies, fire as an idea and a technology, and industrial fire. In this revised and expanded edition, Pyne looks to the future of fire as a constant, defining presence on Earth. A new chapter explores the importance of fire in the twenty-first century, with special attention to its role in the Anthropocene, or what he posits might equally be called the Pyrocene. ...Show more
$32.99
AUD
Category: Australian Non fiction
It's hard to be excited about the future right now. Climate change is accelerating; inequality is growing; politics is polarised; institutions designed to protect us are strained; technology is disrupting the world of work. We need to upgrade the operating systems of our society. Jess Scully asks, What can we do? The answer is- plenty! All over the world, people are refusing the business-as-usual mindset and putting humans back into the civic equation, reimagining work and care, finance and government, urban planning and communication, to make them better and fairer for all. Meet the care workers reclaiming control in India and Lebanon, the people turning slums into safe havens in Kenya and Bangladesh, and champions of people-powered digital democracy in Iceland and Taiwan. There are radical bankers funding renewable energy in the USA and architects redesigning real estate in Australia, new payment systems in Italy and the Philippines that keep money in local communities, and innovators redesigning taxation to cut pollution and incentivise creative solutions. Glimpses of Utopia is a call for optimism. Humans everywhere are rising up to confront our challenges with creativity, resilience and compassion. Harnessing technology and imagination, we can reshape our world to be fair and sustainable. This book shows us how. ...Show more
$34.99
AUD
Category: Australian Non fiction
The history of Australia's intelligence operations in the early 20th century reveals the dark underside of Australian politics, including early infiltration by Russian agents, persecution of innocent civilians, and corruption, right up to the prime minister's office. Dozens of Russian anarchists, social ists and communists arrived in Australia from 1905, fleeing repression in their homeland. Finding work in the Queensland cane fields, Russian activists recruited in working men's groups for their revolutionary cause, laying the foundations for infiltration by Soviet intelligence services of the unions and Communist Party of Australia decades later. This is just one of the many fascinating stories former intelligence officer John Fahey has uncovered in the archives of Australia, MI5 and the CIA. He shows that Australia was under sustained attack from external threats as early as 1908, threats the country consistently failed to address effectively. He identifies the first German spy in Australia, as well as a group of highly respected Jewish businessmen in Melbourne who were Soviet agents, and an Australian woman who worked for Soviet military intelligence in the United States. Internal security work is dirty work, and never more so than when ruthless politicians and police use intelligence services for their own ends. Fahey has discovered that old boys' networks at the highest levels enabled security agencies to mislead judicial inquiries, spy on members of parliament and other bureaucrats, and persecute innocent citizens in the interwar years. Traitors and Spies tells the story of Australia's intelligence operations before ASIO was established, and reveals the dark side of Australian politics in the first half of the twentieth century. ...Show more
$29.99
AUD
Category: Australian Non fiction
A charming story of a time long-gone and the struggles of a young man with his first teaching assignment in a village at the back of beyond. There was a bed, a timber floor, thin tar paper on one side for privacy from the nearby road but nothing else. The flimsiest of 'walls', no pegs or nails to hang even a hat, no door, no rug for cold morning bare feet, no bookshelf for a voracious reader, no bedside cupboard for a lamp or a glass of water, no light source - just a bed and a suitcase for the next two years. In 1960, newly minted teacher Peter O'Brien started work as the only teacher at a bush school in Weabonga, two days' travel by train and mail car from Armidale. Peter was only 20 years old and had never before lived away from his home in Sydney. He'd had some teaching experience, but nothing to prepare him for the monumental challenge of being solely responsible for the education of 18 students, ranging in age from 5 to 15 years old. With few lesson plans, scant teaching materials, a wide range of curious minds and ages to prepare for, Peter was daunted by the enormity of the task ahead. Because of Weabonga's remoteness, the students were already at a disadvantage, but they were keen and receptive and had been blessed with an enthusiastic and committed teacher. Indeed it was the children and their thirst for learning who kept Peter afloat during the early days of shockingly inadequate living conditions, a deficient diet and the terrible loneliness he felt being isolated so far from family, friends and his burgeoning romance. Bush School is an engaging and fascinating memoir of how a young man rose to a challenge most would shrink from today. It tells movingly of the resilience and spirit of children, the importance of learning and the transformative power of teaching. 'So many wonderful books, plays and films centre upon the importance of a dedicated and inspiring teacher in the lives of the very young. The reason is simple. Such teachers, and they are indeed rare, have a lifetime influence upon their pupils. I believe Peter O'Brien is such a teacher. Given Bush School chronicles the earliest days of Peter's teaching career, it's also interesting to note his memoir has 'a coming of age' aspect. A coming of age for Peter himself as he discovers so much about who he is in the remote community to which he's been assigned. Delightfully composed, Bush School has many voices. There is the evocation of a bygone era; there is historical and sociological comment; there is a strong sense of humanity; and above all, there is charm and warmth on every page.' - Judy Nunn, author of Khaki Town 'O'Brien's beautiful memoir Bush School takes us back to a time when students said 'good-oh' and teachers were well-respected within their communities. We watch as O'Brien becomes a teacher; placing the children and their learning at the centre of his work whilst courageously navigating the isolated life of a remote town during the early sixties. O'Brien's story is told with great integrity. He explores the unique challenges and opportunities faced by small schools as well as delving into the grand endeavour that is "teaching". Bush School reminds us that teaching is an act of service and that teachers - then and now - are indispensable.' - Gabbie Stroud, author of Teacher ...Show more
$32.99
AUD
Category: Australian Non fiction
The gripping and revealing inside story of Australia's most notorious armed robbers.
$34.99
AUD
Category: Australian Non fiction
On this ancient continent, waves of people have made their mark on the landscape; in turn, it too has shaped them. If we look afresh at our history through the land we live on, might Indigenous and non-Indigenous Australians find a path to a shared future? An epic exploration of our relationship with th is country, Landscapes of Our Hearts takes us from the Great Barrier Reef to the Central Desert, the High Country to Canberra's Limestone Plains. It is a book of hope and offers the possibility that a renewed connection to the landscape and to each other could pave the way towards reconciliation. It will change the way you see this land.     ...Show more
$22.99
AUD
Category: Australian Non fiction
Stolen from his mother and placed into institutional care when he was only a few months old, Uncle Jack was raised under the government's White Australia Policy. The loneliness and isolation he experienced during those years had a devastating impact on him that endured long after he reconnected with his Aboriginal roots and discovered his stolen identity. Even today he feels like an outsider; a loner; a fringe dweller. In this honest and no-holds-barred memoir, Uncle Jack reveals the 'ups and downs of this crazy, drugged up, locked up, fucked up, and at times unbelievable, life'. From his sideline as a cat burglar, battles with drug addiction and stints in prison, to gracing the nation's stages and screens as he dazzled audiences with his big personality and acting prowess, he takes us through the most formative moments of his life. By turns heartbreaking and hilarious, Jack Charles- Born-again Blakfella is a candid and uplifting memoir from one of Australia's finest and most beloved actors. ...Show more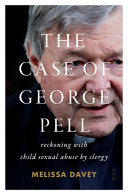 $35.00
AUD
Category: Australian Non fiction
Guardian Australia's Melbourne bureau chief Melissa Davey covered Cardinal George Pell's evidence at the royal commission into child sexual abuses, and attended each of his trials for his alleged historic sexual offences against children--his committal hearing, mistrial, retrial, and appeal. What she sa w, heard, and read made her determined to produce a dispassionate and thorough rendition of what occurred.The Case of George Pell is the result--an authoritative account of those trials, of the basis for the guilty verdict, and of the backlash to that verdict. It is inevitably not only about Cardinal Pell but also about justice in the age of conservative media, about culture wars, and about the broader context of clergy abuse. Despite a five-year-long sexual-abuse enquiry, three trials of one of the most senior Catholics in the world, and saturation coverage of the issue, it became evident to Davey that many myths about the nature of child sexual abuse persist--and that, for some people, the evidence of victims can never be allowed to tarnish the reputation of the church and its practitioners. The Case of George Pell is not just about one alleged offender, and one complainant. It is also about how the sexual abuse of children occurs--and has been allowed to continue. ...Show more